All of us have people we care about. We spend countless hours and tons of money on making sure that the ones we love have everything they need. Whether it's grocery shopping, dropping the kids off at school, or nursing a spouse back to health during an illness, we do whatever it takes to support our family.
But what about the older members of your inner circle? If you have an aging loved one over 65, making sure they're happy and healthy needs to be done with some special consideration and care. Many of us aren't prepared for this and that can lead to some scary situations.
For example, did you know the CDC reported that 3 million elderly people are sent to the ER due to falls each year? And 800,000 of those falls resulted in long-term hospitalization to treat a hip fracture or serious head injury.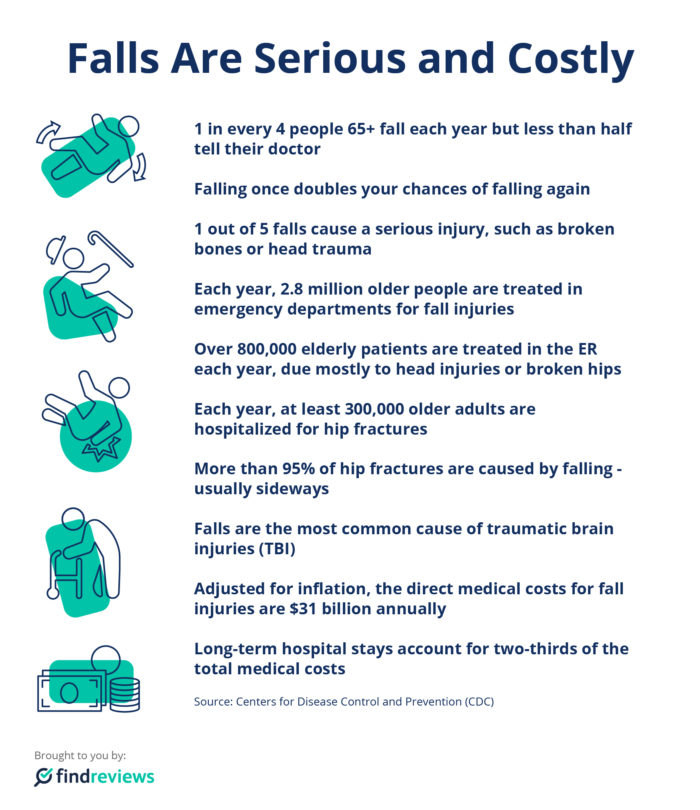 If you have a senior citizen in your life that you care about, it's time to do some research on how you can help keep them safe and sound. Whether they're living in their home or yours, there are some simple ways that you can give both of you some much-needed peace of mind.
We're talking about getting some expert help in caring for your elderly loved one by relying on one of the top-rated medical alert services. This guide is here to answer all of your questions about medical alert devices and lead you through the world of amazing in-home senior care.
The History of Medical Alert Devices
Before we talk about how helpful medical alert devices can be in keeping your aging parent safe, you might want to know more about them, right? That's why we're going to share the history of medical alert systems for seniors with you.
The history of medical alert systems began in the 1970s when a German man saw a critical need for recording and sharing biomedical data. And so he created the original personal emergency response system (PERS).
Wilhelm Hormann saw a chance to help the elderly and sick stay safe in their own homes with his PERS, so he released the invention to the public in the early 1980s as the Hausnotruf, which means "home alert" in German. He was even awarded the Frankfurt Innovation Prize of the German Economy for his creation in 1982.
But it was a California company that first took the idea to market. American International Telephone Corporation began to offer a very similar medical alert system in 1975 as a way to give senior citizens quick access to emergency medical assistance.
This first medical alert system was billed as an "emergency dialer" because it worked with a home phone line. Seniors wore a pendant around the neck and pressed the button when they were in need of help, which sent a signal to a special machine that was connected to their in-home rotary phone.
Pressing the pendant button would send an alert to a previously chosen phone number but there was no way to provide detailed messages. This was a big problem with PERS systems when they first came out. If the emergency contact wasn't home, they couldn't get the alert, and they had no idea what was going on with their elderly loved one, even if they did get the message.
It wasn't until the late 1980s that personal emergency response systems began using live operators with medical training to answer calls. Enter the era of the infamous "I've fallen and I can't get up!" commercials and other punchy medical alert device marketing ploys.
LifeCall created some serious buzz with their drama-filled TV advertisements. Each one featured a senior citizen that had fallen while home alone and were crying out for help. Unfortunately, these commercials turned tragedy into a running punchline.
But they also helped to educate the public on what medical alert systems were and how they saved lives. Keeping that in mind, it seems as if seniors everywhere now owe LifeCall a debt, over-the-top television ads or not.
Read our complete history of medical alert systems to learn even more!
How Medical Alert Devices Work
The medical alert systems of today are much more advanced than Hormann's original personal emergency response system. You can now find personal emergency response devices that work without a landline phone and can even be integrated with a wireless or cellular network for total freedom.
We're going to look at how current medical alert devices work, so you better understand just how helpful they truly can be to your elderly loved one. After all, knowledge is power, and nowhere is that more important than when it comes to those you care about.
Modern Medical Alert Devices
The entire purpose of medical alert systems is to provide monitoring for emergencies inside or out of the home. They're designed to signal the need for urgent attention, request immediate medical care, and alert family members or caregivers if there's an issue.
That makes call buttons a vital part of any medical alert system but many seniors didn't want to have to deal with the traditional neck pendant that used to be a requirement for all medical alert systems.
Luckily, today's medical alert devices come with many more options, including necklaces, wristbands, and even medical alert bracelets for men and women. No matter which type of medical alert device you choose, they all have one important thing in common.
All medical alert devices are made to get help when an emergency arises. But what kind of assistance can you expect from the best medical alert systems? Well, that's going to depend on the kind of service you sign up for with your medical alert provider.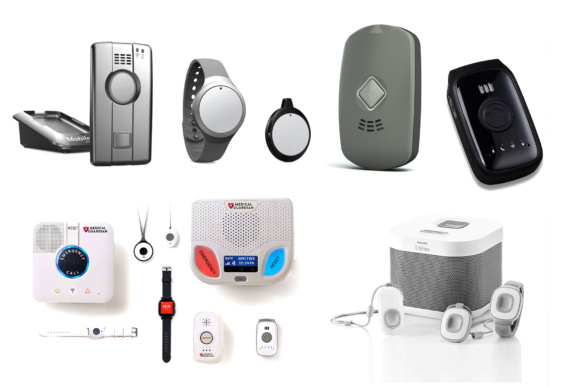 Monitored Medical Alert Systems
With monitored medical alert systems, any press of the alert button connects you with a live operator that's trained in handling medical emergencies. Two-way intercom communication is used to asses the situation and make the right choice to handle what's going on each time.
Many of the modern medical alert devices that come with monitoring don't require a base unit in the home to speak with an operator 24/7. That's because the best wearable medical alert devices now come with built-in microphones and speakers, as well as GPS technology.
There are some newer models that don't require a home base unit but work through cellular service instead. These wearable medical alert devices have microphones and speakers built right in for communication and can be taken wherever you go.
Non-Monitored Medical Alert Systems
Non-monitored medical alert systems also work by pressing a button. But with these systems, instead of reaching an operator, senior citizens having an emergency are put in touch with pre-programmed emergency contacts.
When your elderly loved one signs up for non-monitored medical alert services, they will have to choose the phone numbers they want to use in case of an emergency. This could be a neighbor, an adult child, or a caregiver. Most non-monitored systems play a pre-recorded message that lets who's on the other end know there's a medical emergency happening at a specific address.
This can often lead to delays in receiving emergency medical care. After all, who among us hasn't missed a phone call or two? Most people that are in the market for a top-notch medical alert service choose to go with a monitored system for this very reason.
Read our complete guide to how medical alert systems work to learn more!
Medical Alert Monitoring Services
Why do most folks choose monitored medical alert systems? Because every second counts when it comes to senior citizen falls, accidents, or critical medical emergencies. Think about if you were the one in trouble – wouldn't you want a compassionate professional to help you?
You already know that the CDC has announced more than 95% of senior adult falls result in a fractured hip or traumatic brain injury. But it's not just the fear of falling that makes so many people choose monitored medical alert systems. It's also the added peace of mind they offer.
If you have an aging parent that lives a great distance from you, knowing that they're just the press of a button away from getting help when they're dizzy, having tightness in their chest, or even become lost while shopping can make you feel much better about the miles between you.
Some monitored medical alert systems will even keep an eye on vital signs, provide medication reminders, and offer a daily wellness check-in service from a live operator. These are just a few of the benefits of having top-of-the-line medical monitoring services.
Read more about how much monitored medical alert costs and if it's covered by Medicare.
Medical Alert System Features
Not every medical alert system is created equally and it can seem like finding the right one is a time-consuming struggle. But luckily, we're here to help by showing you the top features you should look for when searching for the best medical alert service for your needs.
24/7 Assistance
Have you ever feared your aging parent could fall and have nobody there to help them? That's where monitored medical alert systems come in to save the day. Of course, even the best medical alert device can't help if there's no one to answer the call. You should look for a medical alert system that offers access to medically trained operators 24 hours a day, every day of the year.
Range of Signal
If your elderly loved one lives in a large home or likes to visit neighbors, you should look for a medical alert system that provides a wide signal range. That might mean upwards of 1,000 feet for traditional landline systems. Or you might want to consider a mobile medical alert device that works with cellular technology to give them complete freedom.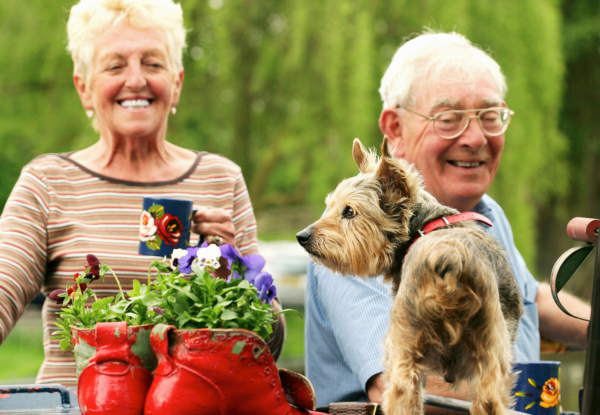 GPS Capability
If your elderly loved one still enjoys getting out and exploring the world, you should look for a medical alert device with built-in GPS. Not only will this be helpful in locating your aging parent if an emergency happens outside of their home, but it also prevents them from becoming lost in unfamiliar surroundings.
Safe Around Water
The best medical alert devices are ones that are water-resistant or even waterproof. Look for one that can be worn in the shower or bathtub. Many falls happen on damp floors, which makes having a medical alert device that's safe around water all the more important.
Good Battery Life
Medical alert devices can mean the difference between life and death. But they can only help if they're working, which is why you need to take battery life into consideration. You should look for a medical alert device that can easily and quickly be recharged and can go anywhere between a week to a month without needing to be plugged in.
Satisfaction Guaranteed
Whether in the form of a no-contract plan, a free trial, or a money-back guarantee, you should look for a medical alert provider that's willing to do what it takes to keep you happy. You want to make sure that any medical alert device is going to work well and take it for a test drive, so keep an eye out for companies that understand this and are concerned with your satisfaction.
Read more about must-have medical alert features for your loved one.
Medical Alert Systems FAQ
Even with all of the information we've thrown at you so far about medical alert systems, you might still have some questions. So, we've rounded up to the answers to the most frequently asked medical alert questions FAQ for you…
What is a medical alert system and why is it important?
You should think of a medical alert system as a safety net for senior systems, especially if they want to maintain their independence and stay out of a nursing home. The fact of the matter is medical emergencies are scary and they rarely happen when or where it's convenient.
Medical alert systems allow for access to assistance, no matter where an emergency happens, which is especially important when it comes to senior citizens and accidental falls that happen while they're living by themselves.
Consider these frightening facts about senior citizen falls:
More than 1 in 4 people over 65 will fall each year

Almost 3 million seniors have suffered fall injuries

Broken bones or head injuries result from 1 in 5 falls

Over 95% of fractured hips in seniors are from falling
When you take those statistics into account with the fact that AARP has noted 87% of senior citizens want to "age in place" by remaining in their own homes, you'll probably start to see why medical alert systems are such an important security net to have for both quality of life and peace of mind.
What's a simple explanation of how medical alert systems work?
While it might seem as if medical alert system technology can be difficult to understand, we've come up with a quick and easy way to explain how the process works.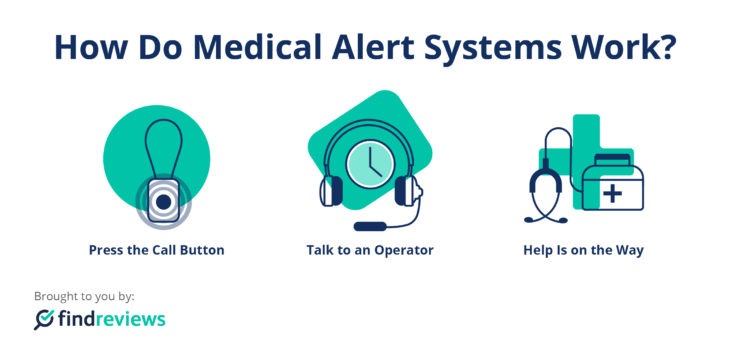 Your aging parent experiences an emergency

They push the help button on their medical alert device

A trained operator answers the call and assesses the situation

If necessary, local emergency responders are sent to the scene

The operator notifies you and any other emergency contacts on file

Your elderly loved one stays on the line with the operator until help arrives
How reliable are medical alert systems?
While we can't speak for every available medical alert system, the top 11 providers that were reviewed by our editorial team turned out to be super reliable, thanks in large part to built-in GPS technology, Wi-Fi capability, and even quite a few waterproof device options.
What's the best system for my elderly loved one?
Although your choice will be based on your specific needs, including your location and budget, and we can't answer this question for you, we can help you with some recommendations on what to look for in the best medical alert systems. Keep on reading to learn more…
Get answers to all of your questions in our complete medical alert system FAQ guide!
How to Choose the Best Medical Alert System
If you're concerned about your aging parent falling or having a medical emergency while living alone, one of the easiest ways to provide them with added security and give yourself extra comfort is with a top-rated medical alert system.
But how do you find the right one for your elderly loved one? We're going to walk you through some simple steps for finding the perfect medical alert device for your family member and show you how to choose one of the best medical alert system of 2019.
The Easy Way to Choose a Medical Alert System
The key to finding the system that works best is by asking yourself and the senior citizen that will be using the medical alert device three questions. You should do this before you even start shopping around for a medical alert system.
1. Are You a Homebody or a Social Butterfly?
Although medical alert systems were originally designed to work with landline phones, the best providers now offer mobile options for on-the-go seniors. You can choose a medical alert device that works only with a home phone, one that uses cellular technology, or one that provides both.
You should take a look at your older parent's day-to-day life and factor in whether or not they regularly hit the town or tend to prefer staying in most of the time. And then ask them to answer this first question themselves.
2. Do You Want Access to a Live Operator?
Often times, you'll have the option to choose a monitored medical alert system or one that isn't. With monitored systems, any time the call button is pressed, an immediate connection is made to a live medical professional in a 24/7 call center.
But non-monitored medical alert systems take operators out of the equation. When the help button is pressed, a call is automatically placed to a predetermined emergency contact, which sounds like a good thing. Until you think about that call going unanswered.
Most experts, including the AARP, recommend monitored devices for senior citizen medical alert systems. After all, the last thing you want to happen is your loved one laying on the floor in pain, and not being able to get a hold of help. That's why 24/7 operators are so important!
3. Do You Need a Fall Detection Add-On?
Some medical alert providers include fall detection automatically, while others offer it as an add-on feature for an additional fee. If your elderly loved one has suffered from an in-home fall before, you should definitely consider going with this life-saving option.
Fall detection technology for medical alert devices monitors altitude and alerts a trained operator if it seems as if a fall has occurred. The operator can then contact the senior to see if they've suffered a fall and need assistance, instead of them having to press the call button.
Read more about how to find the best medical alert device for you or a loved one.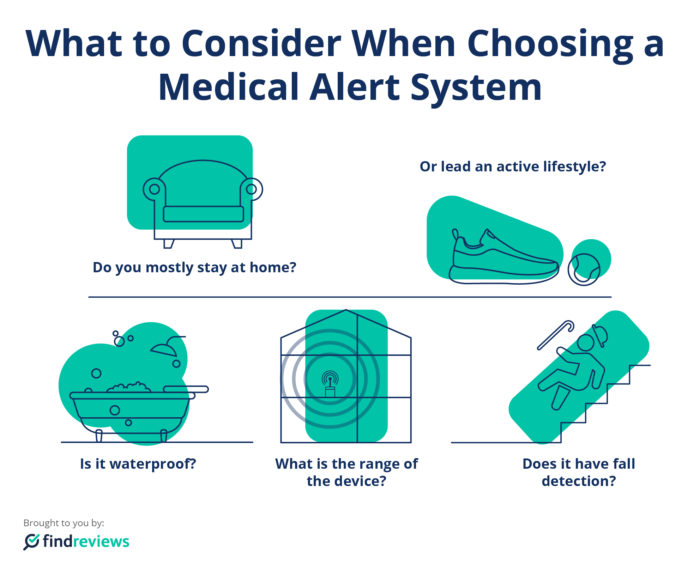 Final Thoughts on Medical Alert Systems
Congratulations on finishing our ultimate guide to medical alert devices for seniors! You're one step closer to keeping your aging parent safe and sound, not to mention giving yourself some much-needed peace of mind.
Now that you know how much a medical alert can help your elderly loved one, and you're ready to find the perfect system, you might want to take a look at our in-depth medical alert reviews and see what other people have to say on the top-rated providers.
Or if you want to save yourself some time and trouble, you can skip right to our Editor's Choice for medical alert systems and get signed up today for risk-free coverage from eldercare professionals that want only the very best for America's senior citizens.