If you're thinking about getting a medical alert device, the first thing you need to know is not all personal emergency response systems are the same. The biggest difference in the types of medical alert systems is the type of service that comes with them.
We're going to talk about what kind of assistance you can expect to get from the two different types of medical alert services. And help you decide whether you want a personal emergency response system with a live operator or a simple S.O.S. signaling process.
We'll also show you just how much the best medical alert systems cost, whether you have to pay for them monthly or yearly, and if they're covered by private or government-subsidized health insurance plans like Medicare or Medicaid.
Monitored vs. Non-Monitored Medical Alert Systems
So, what happens when you press the help button on a medical alert device? Well, that all depends on which type of service you signed up for with your medical alert provider. That's because there are two types of medical alert systems – monitored and non-monitored.
Non-monitored medical alert systems consist of a base unit and a neck or wrist pendant. When you press the help button on the pendant, a signal is sent to the base unit and an alert is sent out that you need help.
This signal is a simple pre-recorded message that's played for whoever answers the call. You can assign an emergency contact, such as an adult child, caregiver, or neighbor with a non-monitored medical alert system. Or you can program it to contact 911 directly. If you're looking for a medical alert system that calls family, this might be the right choice for you.
Monitored medical alert systems also use a base unit and a neck or wrist pendant. But instead of just sending out a pre-recorded message indicating there's an emergency in your home when you press the help button, you'll reach a live operator in an emergency monitoring center.
This might not seem like a huge difference. After all, you'll get help with either type of personal emergency response system. But with monitored medical alert service, you'll be able to speak with an operator that's been trained in assessing and addressing medical emergencies.
Emergency medical monitoring is important during falls, dangerous medication reactions, or when you're having chest pains. And when you use a monitored medical alert system, you'll be able to tell the operator exactly what's going on and how they can best help you.
Now that you've learned about the difference between monitored and non-monitored services, you're probably wondering how much medical alert systems cost, right? We're going to take a look at what you can expect to pay for the best monitored medical alert devices available today.
How Much Do Medical Alert Systems Cost?
Most medical alert systems come at a very reasonable price – especially given the life-saving service that you're receiving. You can expect to pay anywhere from $20 to $50 per month for the top-rated medical alert systems. It all depends on the service and features you select.
Medical Alert Activation Fees
Some medical alert providers charge an activation fee to begin service. But there are many that either waive this cost during promotions or choose to offer free medical alert system activation. We recommend choosing a medical alert company that charges no up-front fees of any kind, whenever possible.
Medical Alert Equipment Fees
With most medical alert systems, the monthly fee you pay covers both the service and the required equipment. That's because medical alert base units and pendants are company-specific, which means the service provider gets the equipment back when you no longer need a personal emergency response system.
Medical Alert Cancellation Policies
The best medical alert companies offer month-to-month service, which is what we recommend, in order to avoid being locked into a long-term contract. You never know when your circumstances might change and you'll no longer need a medical alert system. You should do your best to avoid choosing a medical alert company that requires annual (or even longer) contracts.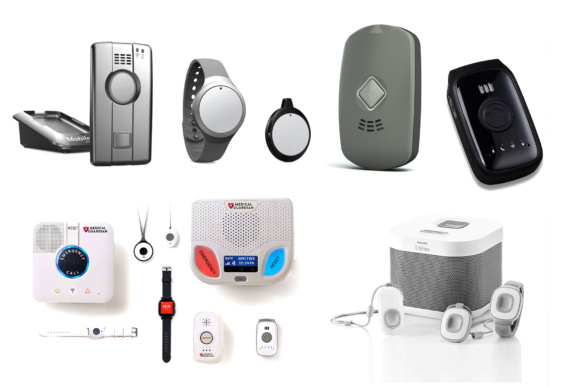 Can You Get Medical Alert Systems with No Monthly Fee?
If you've ever done a Google search for "medical alert no monthly fee" for yourself or a loved one, chances are you're interested in getting free medical monitoring. But is there really such a thing available?
According to our research, there are some options for getting a free medical alert system, but we discovered that they tend to be quite limited when it comes to service features. But if you're simply looking for a medical alert system that calls family, you might consider going with a government-subsidized program that covers the monthly cost of phone service.
LifeLine Free Phone Program
While this isn't a no-cost medical alert system, it's an excellent way to eliminate the cost of either your landline or mobile phone service each month. LifeLine is a program from the federal government that helps qualifying consumers stay in contact with their family.
In order to qualify for LifeLine, you need to receive government assistance, such as:
Food Stamps

Medicaid

Supplemental Social Security

Temporary Assistance for Needy Families

Low Income Home Energy Assistance Program
On a budget? Check out our recommendations for low-cost medical alert systems!
Does Medicare or Medicaid Cover Medical Alert Systems?
One of the best ways to get a medical alert system with no monthly fee is by checking to see if you qualify for having it covered by your health insurance, whether it's through a private company or a government program like Medicare or Medicaid.
According to the Federal Trade Commission (FTC), you will most likely need to have a doctor's recommendation to qualify for free medical alert service through most insurance companies. If you feel as if you might be entitled to a no-cost medical alert system, you should absolutely discuss free personal emergency response systems with your doctor.
Keep in mind that most medical alert with no monthly fee options will limit you to non-monitored service, which could significantly impact your ability to get the help you need. You might want to take a look at our Medical Alert Ultimate Guide and discuss your specific situation with your family to see what will work best for you.
Does the VA Cover Medical Alert Systems?
If you're wondering if the VA pays for medical alert devices, chances are you're familiar with the Department of Veterans Affairs and the many helpful resources they provide to seniors over the age of 65 that either served their country or were married to someone that did.
The VA is dedicated to helping veterans age safely while remaining in their own homes and even though they don't provide free medical alert services at this time, they do connect senior veterans with a variety of local resources that help them to stay healthy, active, and safe during their golden years.
Many of the best medical alert companies are proud to assist veterans age with dignity on their own terms and in their own homes, just as the VA benefits for seniors do, and they are happy to provide protection during emergencies by offering them affordable medical alert system packages that work with their budget.
Are Medical Alert Systems Tax Deductible?
As with all things tax-related, you should consult a tax professional or accountant for expert advice on whether or not your medical alert system might qualify as a deduction on your state or federal income taxes. You can also read the Internal Revenue Service's Publication 502 for specific information on medical and dental expenses and how they relate to tax returns.
You may need to be using a medical alert system on a doctor's orders to be able to deduct it and you will generally have to itemize any deductible expenses. You should also check with your health insurer and accountant to see if your medical alert system is a qualifying medical expense for your pre-tax health savings account.
How to Get the Best Deal on Medical Monitoring
We already talked about how important monitored medical alert systems are when it comes to the health and well-being of senior citizens. But most seniors have a fixed monthly income and don't have much wiggle room in their budgets.
So, how can you afford medical monitoring? Your best bet is to look for medical alert promotions from well-known companies and speak with them about your specific situation. Many of the most trusted medical alert providers have very reasonable rates for senior citizens and will work with you to get the best deal possible.
Be sure to discuss your location and specific health needs with any of the companies you speak with and don't forget to take notes during the call. You might want to make sure your spouse, adult child, or a trusted friend is there with you when you discuss low-cost medical alert service with any of the providers you choose.
And be sure to check out our Ultimate Guide to Medical Alert Systems for even more help!