Apple's innovative step to make your iPhone experience more personalized is getting better and better every year.
Months into the release of iPhone XR, it still reigns as the best iPhone to purchase when it comes to affordability and functionality.
iPhone XR still holds many premium features that can be found in its more costly counterparts, but what really seals the deal is its wondrous, vibrant exterior colors.
Why would anyone want to hide its magnificence with an opaque phone case? Take a look at our Top 7 iPhone XR cases that allows your smartphone to shine!
UAG Plyo Series
Urban Armor Gear is known for its quality protection, one of the biggest names in the industry. UAG produces cases that pass military drop standards, keeping your iPhone XR free from drops and scratches.
What caught our eye, however, isn't its tough exterior – it's the Plyo's classy design. It's definitely one of Urban Armor Gear's more refined series, making it the go-to case for XR users.
Material is from an armor sell, partnered up with a shock-resistant softcore. The smart guys in UAG reinforced the corners with air-soft cushions.
The raised edges of the case keep your phone screen safe from accidental falls. To make sure the buttons look good as new, the case has oversized covers.
It preserves your smartphone's life with its superiority in design. It does require you to pay a hefty amount, but it's definitely worth the price.
Gear4 Picadilly
Gear 4 Picadilly looks like your typical, run-of-the-mill clear case, but the magic starts to happen as soon as you pop your iPhone XR into the clear case. It'll be made evident why Picadilly transforms your smartphone into a whole new device.
One of its prominent features is its light splash of color, allowing you to show off personality. The casing's deep cutout, emphasizing on the power button and camera, adds sharp angles to the lot.
The creators of Gear 4 made a smart move in using the same high-end material you'll find in quality helmets as the case's body – it's as sturdy as it can get.
It keeps your smartphone as you've just bought it fresh from the iStore without having to deal with the housing's bulkiness or heaviness.
Apple Case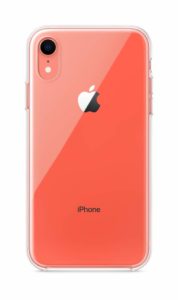 If there's any reason why anyone would want to buy iPhone XR (aside from its affordable price range) it's the phone's availability of colors. Naturally, a case that would enable you to flaunt its distinctive color is desirable.
Apple doesn't normally produce clear iPhone cases; however, they made a special exception for its multicolored flagship. It fits perfectly, barely visible on your smartphone.
The classic iPhone XR Clear Case is made out of thick polycarbonate, infused with TPU materials. It's quick to slide on, and it's tough enough to keep your iPhone free from scratches and protect it from drops.
Reprieve SPORT Case
Unlike the other casings on the list where you need to slide in your phone before it can shine, this particular case doesn't. Its attractiveness is apparent upon sight, giving you that James Dean factor.
Reprieve SPORT Case comes with a clear polycarbonate case, allowing you to exhibit your phone's uniqueness while keeping it safe from scratches and bumps.
The case's exterior is equipped with a durable but flexible TPU bumper, Incipio made sure the case can save your iPhone XR from accidental drops. It can survive a 12 feet fall without a hitch as tested by the makers.
Incipio didn't leave a corner unattended, reinforcements are placed in every corner. Strengthening the possible areas where your phone is likely to suffer more damage from a fall.
Tech21 Evo Check
Tech21 outdid themselves with their nifty creation of Evo Check case. They kept this case straight to the point: Tough and flexible. What we really liked, though, is how the case is soft to the touch despite its durability.
It's fortified with air pockets lining, keeping your phone safe even if it fell 12 feet from the ground. There are bezels placed at the bottom of the case, in which they've raised it a notch higher than other brands. Its elevated case protects your phone's speakers and lightning port.
We like how the brand name's inscription has that sandpaper-like feeling at the back, it gives you the added oomph to the design. Rest assured, it doesn't harm the smartphone's body.
Ghostek Cloak 4
Cloak 4 certainly sets a different vibe than the other ones here. It gives you a totally new style to your phone, but its bold persona makes it even more appealing.
You can get it in four different colors, depending on which speaks out to you the most. The large bumpers make it distinctive even at a distance.
Angles are aggressive, making it pop out of the scene in an instant. But regardless of how much personality the case has, it still has tinted back window, so your iPhone XR's vibrant color doesn't get overshadowed.
Regardless of your color preference, Ghostek Cloak 4 delivers a durable iPhone case with a raised bevel to save your device from scrapes and bumps.
Totallee Thin iPhone XR Case
We're Totallee loving this completely clear iPhone XR case! It makes your phone look bare, allowing it to gleam in crowds.
It gives you that much needed extra grip, in spite of of how thin the case is, its rubbery finish makes sure your phone doesn't slip out of your hand.
Ideal for long-term use, made out of flexible TPU, it doesn't turn yellow nor does it attract lint. It sets it apart from the typical, hard plastic used in most phone cases.
We definitely recommend this for people who are looking for the thinnest and lightest iPhone case in the market. This is only a whopping 0.02 in width and 0.1 ounces in weight, making it practically invisible.
If a completely clear case isn't your thing, Totallee does give you the option of choosing matte or glossy finishes. As an added bonus, it's one of the cheapest iPhone XR cases you can get in good quality, too.