Caregiving for dementia patients requires a lot of patience, flexibility, and sticking to a scheduled routine. It's not easy by a longshot, but helping a dementia patient feel more relaxed and less confused is important.
Your patient may be mostly independent with momentary lapses, or entirely dependent on you, depending on how far along their dementia has progressed.
While there are many articles on caring for Alzheimer's patients, you may not be aware of the benefits of art therapy for dementia. Or perhaps arts and crafts is something you've already been doing with your patient, as little projects such as knitting or drawing keep them occupied.
In this article, we'll discuss the very real benefits of art therapy for dementia patients (as proven by numerous studies). We'll also list the types of activities that are most beneficial, and provide some tips on purchasing materials for various arts and crafts projects.
Benefits of Arts and Crafts for Alzheimer's
The benefits of art therapy have long been known in the research community, but it is slowly gaining traction as a legitimate therapy method amongst professional caregivers. Results are still debated amongst top researchers, but not necessarily regarding the overall efficacy of art therapy for dementia patients.
While researchers generally agree that art therapy shows positive results, they are still trying to figure out the most beneficial art therapy activities, and how often they should be utilized for maximum results. Having said that, the following are some of the primary benefits of art therapy activities for Alzheimer's patients on which most researchers agree.
Less Stress: Arts and crafts can lead to increased concentration, heightened self-esteem, and inspire positive feelings. Art has been shown to reduce cortisol, the stress hormone, no matter a person's skill level. The very simple act of creating art is enough to reduce stress.
More Socializing: Withdrawal from social activity and society at large is a noticed behavioral change in people suffering from dementia. Music and art therapy allow them to re-connect and socialize with the people around them.
Stabilized Emotions: Art therapy can be used as an outlet of expression. Dementia patients can suffer difficulty in expressing their feelings, feeling trapped within their bodies, unable to effectively communicate their innermost feelings. Art gives them freedom of expression, where they can draw based on their moods, and communicate feelings and thoughts.
Stimulated Senses: There is an observed progressive decline in sensory perception in dementia patients. When those patients are engaged in art and craft activities, their senses are stimulated by colors, textures, and sound.
Decreased Agitation: Music has known soothing qualities on our moods. Dementia patients can often suffer from agitation and aggression, which music can help to distract from. Music can even evoke memories, perhaps allowing the dementia patient to remember an earlier time in their life.
Increased Creativity: According to research from Bruce L. Miller, M.D., the professor of neurology and director of Memory and Aging Center at the University of California, San Francisco, creativity can emerge in people with dementia. As the brain continues to degenerate, a newfound artistic ability can still reach a peak. In patients with verbal communication loss, their visual creativity can actually be released.
Diminish Dementia: A 2-year inquiry launched by the All Party Parliamentary Group for Arts, Health, and Wellbeing found that "visual arts, music, dance, digital creativity, and other cultural activities can help to delay the onset of dementia and diminish its severity."
Greater Recall: Creating art has been shown to stimulate brain plasticity and create new connections between brain cells. Dementia erodes neural pathways in the brain, which is what leads to loss of information storage. Creating art can stimulate the creation of new neural pathways, which allow for information storage and recall.
Better Mood: Brain scans reveal that looking at art releases a surge of dopamine in the brain, in the orbitofrontal cortex area of the brain. This is the same area of the brain which is responsible for registering romantic love, desire, affection, and pleasure. Thus, the physiological pleasure reaction when viewing art is immediate. Patients in hospitals who viewed artwork reported less suffering, and speedier recoveries.
Improved Memory: Dr. Arnold Bresky is a physician who created a program called Brain Tune Up, which involves art therapy for dementia patients. He reports that 70% of his patients display memory improvement while drawing or painting.
Enhanced Cognition: A study led by Diane Waller of the University of London, U.K. observed the cognitive and psychological changes in dementia patients who attended weekly art therapy sessions, and dementia patients who attended other recreational activities. The patients in the art therapy group exhibited mental cognition enhancement, were calmer, and more social, compared to the other group.
Now that you've seen the findings from various researchers and study groups, you may be wondering exactly which art activities have been shown to be the most effective. This can be tricky, as it takes some experimentation. It may simply boil down to the personal preferences of the patient.
But we're here to help by listing some of the best arts and crafts activities to help dementia patients and give you some tips on choosing the right materials for your patients with Alzheimer's disease.
Best Arts and Crafts Activities for Alzheimer's
There are many types of art and craft activities for Alzheimer patients to engage in. In this section, we'll highlight some things to do with dementia patients that can inspire their creativity, and help them enjoy the benefits we mentioned previously.
Putting Together Collages: You can decide on a theme for collages, and let the patients put them together from photographs, magazine cutouts, and various embellishments. One thing to consider is that you could even perhaps trigger memories by using older newspaper and magazines, where the patient might recognize the photographs or events in the newspaper clippings.
Handmade Greeting Cards: This activity can help lessen anxiety in the dementia patient, as crafting greeting cards may give a sense of purpose. If the patient is unable to design their own, you can give them templates to work from and provide them with cut-out designs and shapes to adorn the cards.
Picture Puzzles: One resource suggests enlarging photos of one of the patient's close relatives, and cutting it into square pieces. Then have the patient assemble the square pieces like a puzzle. Assembling puzzles can inspire focus and concentration on the task at hand, while the final photograph may trigger recognition or memories of the photo subject.
Career-Based Activities: If the patient formerly worked in a post office, you could have them stamp envelopes. Former carpenters may enjoy sanding a piece of wood, while gardeners could water potted plants.
Paint by Numbers: Paint-by-number kits are a great resource, as they are pre-drawn, with areas numbered according to how they should be colored. This gives the patient a way to complete a painting, while also following simple instructions. You can use acrylic paints for this, but watercolor paint kits may be the easiest to work with, as oil-based paints typically require a very long time to dry.
Doodling with Music: Play some relaxing music, and allow the patient to just draw to their heart's content. Provide them plenty of colored pencils to work with, and give no specific instructions on what to draw. Just allow them to doodle whatever they wish. Doodling has the proven benefits of bringing out inner creativity and evoking positive emotions.
Clay Modeling: There are a few different types of modeling clay, for different purposes. Oil-based modeling clay is a bit tacky, and messier to work with. Polymer-based clay is soft and malleable, yet can be baked to harden in an oven. And of course, you have air-dry clays similar in consistency to Play-Doh.
If you're worried about the mess, there's nothing wrong with choosing the latter. However, if you think your patients are able to work with oil-based clay, you should also purchase wooden clay modeling tools, and tablecloths to contain the mess. Additionally, you can pick up beginner books for clay modeling, and choose easy projects for the patients to follow.
Best Brands for Senior Arts and Crafts
We also have a few brands to suggest, for paints and colored pencils. While you might just opt for more cost-effective brands like Crayola, if you feel the urge to splurge on higher quality brands, you may check our suggestions out.
We aren't associated with any of the brands being mentioned, but they are favorably reviewed in the art community as being of "artist grade" quality.
Prismacolor Premier: These colored pencils can be purchased in sets of 12, 24, 36, 48, 72, 132, and 150 colors. The colors are quite vivid because Prismacolor Premier pencils use soft, wax-based cores, which apply almost buttery smooth to paper surfaces. If you find Prismacolor Premiers a bit pricey, you can opt for their Scholar set, which has slightly harder wax cores but are almost as vivid in color.
Faber Castell Polychromos: Considered a direct rival to Prismacolor Premier, FC Polychromos pencils are oil-based and have incredible light-fastness, which means the colors won't fade over time. These colored pencils have harder cores than the wax-based Prismacolors, which makes them less prone to tip breakage, and they also don't need to be sharpened as often. But this also means they don't apply as smoothly to paper as Prismacolors. You can also opt for Faber Castell's Classic pencils, which are more student-grade quality, and easier on the budget.
Mont Marte Dimension: This series of acrylic paints come in a huge variety of colors, typically sold in 75ml bottles. Like most acrylics, they dry pretty fast once applied to a surface, but they have a nice glossy finish. You can also thin out the paints with a bit of water, for a more transparent watercolor effect.
Reeves: Another acrylic paint brand, Reeves also offers a large catalog of available colors. Like Mont Marte, they're also sold in 75ml bottles and are a little bit cheaper than Mont Marte, however, they do not dry as vibrantly, and may actually darken in color over time. For good quality on a budget, however, Reeves may be suitable for your patients.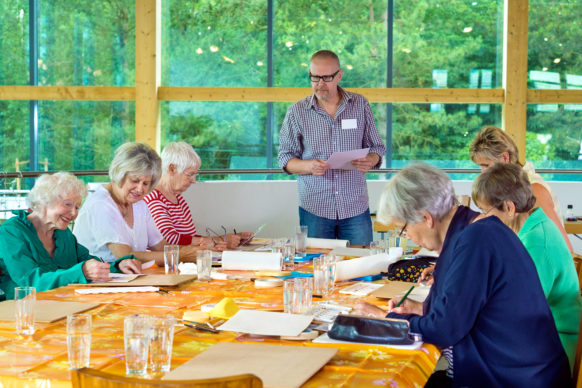 Sakura Gelly Roll Pens: If your activities for dementia patients call for nice, vivid gel pens, such as when creating greeting cards, Sakura Gelly Rolls are simply amazing. They typically cost around $1 per pen, so take that into consideration when looking for multiple color sets. However, many artists have found that Sakura's white Gelly Roll pen is one of the very few brands that actually apply a bright, impressive white to black paper.
This is especially important when considering arts and crafts for Alzheimer's Disease patients, as white sketches on black paper are not only fun, but they also put the brain into high gear by forcing you to think about contrast and lighting in reverse.
Finally, you should take paper thickness into account for different projects. Sketch and drawing paper is typically sold in various GSM (grams per square meter) rating, GSM being the "paperweight," or thickness of the paper.
Paper sold in the around 50 GSM range is akin to newspaper thinness, and suitable for very light sketches. Paper with 100 GSM is more like printer paper and can take a bit more abuse, such as hard pressing with colored pencils.
You should not paint on anything less than 300 GSM, especially with acrylic paints. You run the risk of the paint bleeding through the paper, staining whatever surface is beneath it.
No matter which arts and crafts project you choose, they're all definitely an opportunity for closer bonding with the patient and giving them some freedom of expression in their life. We hope you enjoyed this article, and it helps you prepare some fun activities for Alzheimer's patients under your care!