Medical alert devices are no longer the bulky neck pendants you once saw in the infamous "I've fallen and I can't get up!" TV commercials. In fact, taking a look at the history of medical alert devices shows just how far they've come since the end of the 20th century.
Also known as personal emergency response systems, the medical alert systems of today have many more options when it comes to getting immediate assistance from trained professionals when you need it the most.
If you or someone you care about is elderly, at an increased risk of dangerous falls, or has a serious health issue, a medical alert device can help keep you connected and give you the peace of mind you want and need.
How Does a Medical Alert System Work?
Medical alert systems help you get access to emergency assistance by connecting you to a dedicated call center with the push of a button. Medical alert operators at the call center will assess your situation and either inform a caregiver or 911 of what's going on, depending on your specific circumstance.
Home-based medical alert devices work through a landline phone or cellular service and the call button is located on the base unit, mountable units throughout the house, or a neck pendant or other wearable device that uses a cellular connection.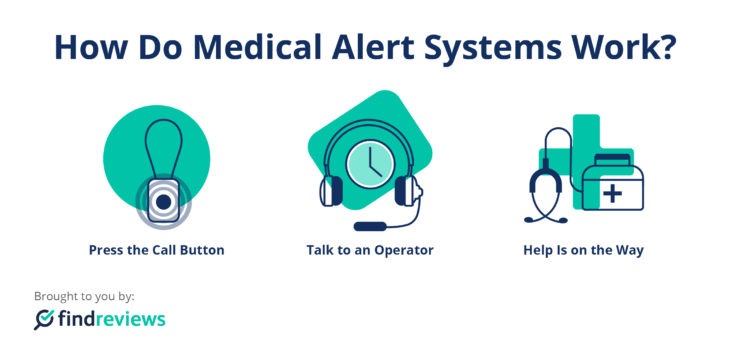 These type of call buttons typically have a range of up to 1,500 feet from the base unit and are limited to in-home use. People with more active lifestyles should go with a mobile medical alert device with GPS technology, which is designed to be used while out and about and gives users total freedom through a cellphone line.
Once your home-based or mobile medical monitoring service is set up, you will provide a medical history and the contact information for your chosen caregivers, which helps your medical alert provider know how to best help you in the event of an emergency.
Want the best system quick? Check out our Editor's Choice for medical alert devices!
How Have Medical Alert Devices Improved?
We've already talked a bit about how medical alert systems have gotten better over the years and that's mostly due to the technological advances in the industry, such as the use of cellular connections and GPS capability in wearable devices.
But medical alert device improvements haven't all been about 21st-century tech. One of the biggest ways personal emergency response systems have gotten better is simply with the addition of live operators that have been trained in handling medical emergencies.
Modern Medical Alert Devices
One of the biggest problems with the original medical alert systems was the fact they could only use pre-recorded messages letting 911 know there was an emergency at the address attached to the landline phone associated with the device.
Luckily, today's medical alert devices are able to transmit a lot more information. They work more like a two-way radio than an S.O.S signal. And while all medical alert systems are designed to quickly get you help when you need it, what kind of assistance can you expect?
Well, that depends on the type of personal emergency response system you choose. Let's take a look at the different options for medical alert systems, and what kind of assistance you'll get from your medical alert provider.
Monitored Medical Alert Systems
Many of the best medical alert systems come with 24/7 monitoring services that allow users to speak directly with a trained operator. With monitored medical alert devices, a press of the call button will get you in touch with assistance instantly, whether it's home-based or mobile.
Today's wearable medical alert devices not only connect users with live help any time of day or night but also give them additional medical monitoring through built-in GPS. That means you can get assistance anywhere and operators will know exactly where you need help sent.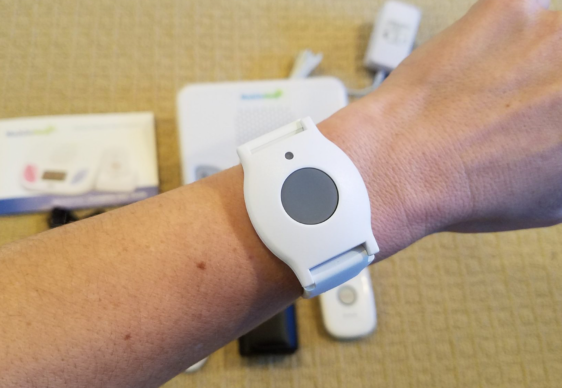 Non-Monitored Medical Alert Systems
With non-monitored medical alert systems, users are still able to get help with a button press, but instead of speaking with an operator, the system simply dials a pre-set phone number, whether that's 911 or a caregiver.
Like the medical alert devices of yesterday, these types of medical alert systems will play a pre-recorded message to whoever picks up the phone, and you won't be able to give your emergency contacts or the 911 operator any specifics about your situation. But what happens if no one is available to pick up your call for help at all?
That's a scary thought and it's also why the AARP recommends monitored medical alert systems for senior citizens that want to be able to live out their golden years in their own home. With a 24/7 monitoring service, you can get the personal care you want while maintaining independence.
How to Use a Medical Alert Device
Once a medical alert system is set up and ready to go, you might be a bit nervous about using it at first. When should you press the call button? What happens if you can't respond to the operator? How will you get help if you fall and can't get up?
Using a medical alert service is simple and only requires you to press the call button when you're in need of any kind of assistance. You'll be connected with a trained operator at a 24/7 call center and be able to communicate through speakers in your home or the device itself.
Communicating with a Medical Alert Operator
When you press the call button on your medical alert device, you'll speak with an operator and tell them what kind of help you need. Don't forget that medical alert operators are there to assist you in any way, so don't feel nervous about speaking with them! Just do your best to tell them what's going on so they can correctly assess the situation.
Getting Assistance with Minor Concerns
Don't feel as if pressing the call button on your medical alert device will result in lights and sirens every time. You can reach out to an operator if you're having a minor problem that doesn't need an ambulance, such as a monthly system test or being unable to contact a loved one. Some medical alert companies even provide a "check-in service" just to make sure their users are doing alright each day.
Getting Help with Major Concerns
If a medical alert user is having a medical emergency but isn't close enough to be heard over the speakers in a base unit, the operator will follow a predetermined protocol to make sure help is sent. This is done by considering the user's living situation and medical history to determine the best type of assistance, whether they can speak to the user or not.
Getting Help with Serious Falls
The best medical alert companies offer their users automatic fall detection built right into wearable devices. That means if you have a serious fall and can't press the call button because you're unconscious, medical aid will be sent to you automatically. This feature works by detecting drastic dips in altitude and alerting the call center that you've fallen.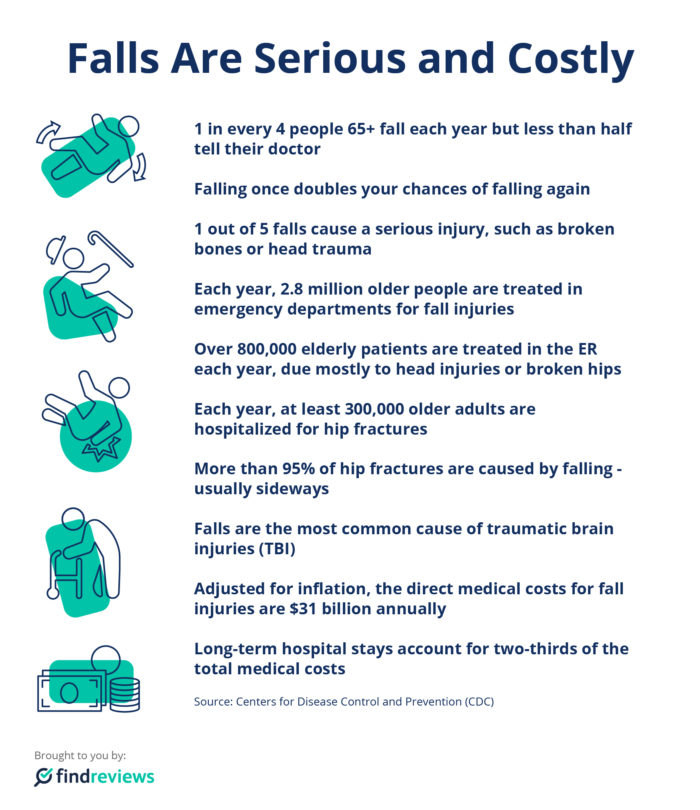 Medical alert systems with fall detection are especially important for users over the age of 65, due to the heightened fall risk in senior citizens. The Centers for Disease Control and Prevention (CDC) has found that falls are the leading cause of death in people aged 75 and older, which makes automatic fall detection a very nice feature to have for elderly loved ones.
Do Medical Alert Systems Work Outside the Home?
You already know that monitored medical alert systems can quickly and easily get you in touch with trained operators when you need help at home. But what about medical alert devices for active seniors?
While most of us spend a great deal of time at home, we also enjoy going out to visit friends, taking a walk in the park, or seeing different parts of the country. Luckily, many of today's medical alert systems are designed to fit into active lifestyles.
Mobile Medical Alert Devices
While the average range for in-home medical alert devices is only around 600 feet, a cellular-connected medical alert system gives you total freedom to go anywhere. These systems work with well-known mobile networks like AT&T to provide you with a service range that's measured in miles instead of feet.
Medical Alert Systems with GPS
If you're worried about an elderly loved one getting lost or you're an active senior that likes to paint the town red, you should look for GPS-enabled medical alert services. Systems with built-in GPS give you more confidence and independence but they can cost more per month, so be sure to keep that in mind when shopping for a medical alert device.
Travel-Friendly Medical Alert Systems
Enjoy traveling but still want the peace of mind that comes with a monitored medical alert system? You should go for a medical alert device that combines mobile connectivity with GPS capability. This will give you the chance to take your personal emergency response system with you wherever you go and won't leave you tied to a landline phone. You can stay connected to 24/7 assistance anywhere cellphones can be used.
What's the Best Way to Choose a Medical Alert System?
Before choosing a medical alert system for yourself or a loved one, you should do your research by reading reviews and talking with friends or family members that are already using a medical alert device.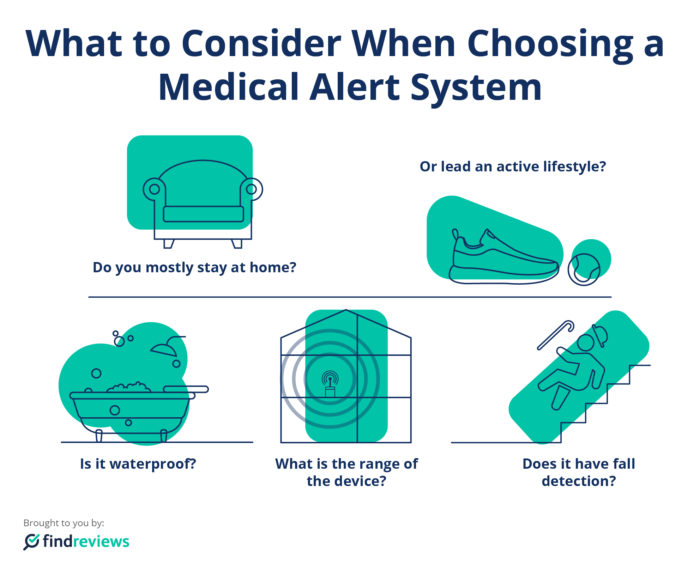 There are also some questions to ask yourself when choosing a medical alert system:
Is home-based or mobile a better fit for my lifestyle?

Do I need 24/7 medical monitoring services?

Is my cell or home phone service more reliable?

Will I be traveling regularly in the coming months?

Is the service's call center based in the United States?

What are the up-front or monthly costs for the service?

Do I need a wearable device that can go anywhere?

Are the available medical alert devices waterproof?

Will I be locked into a long-term service contract?
Asking yourself these questions should help you find the best medical alert device for your particular needs. But in case you want some expert guidance on finding the right system, you can find a lot more info in our ultimate medical alert buying guide for 2019.