Today's senior citizens are more interested in being able to age in place than ever before. The Centers for Disease Control and Prevention (CDC) says that "the ability to live in one's home safely, independently and comfortably" is the goal of many older Americans in the 21st century.
But how can seniors stay comfortably independent in their own homes if they're living alone? That's where the safety net of a medical alert system comes into play. With a trustworthy medical alert device, help is just the press of a button away 24 hours a day, 7 days a week.
Of course, there are tons of options out there when it comes to top-rated medical alert devices, including in-home or mobile systems, so how do you know which is the best choice for you? First, you need to understand what medical alert devices are and how they got their start.
Let's take a look at an in-depth history of medical alert systems…
The First Personal Emergency Response System
Medical alert systems got their start in the early 1970s when a German man named Wilhelm Hormann created the first personal emergency response system (PERS), which he called the Hausnotruf as it meant "home alert" in German.
Even though Hormann originally created this PERS to record and share data gathered in the biomedical field, he quickly realized that it would be an ideal way to help elderly and ill people remain safely in their own homes.
Hormann worked to get his PERS on the market and make it available to those that needed it most and he was even awarded the Frankfurt Innovation Prize of the German Economy in 1982 for all of his efforts to help sick and incapacitated people get medical assistance quickly.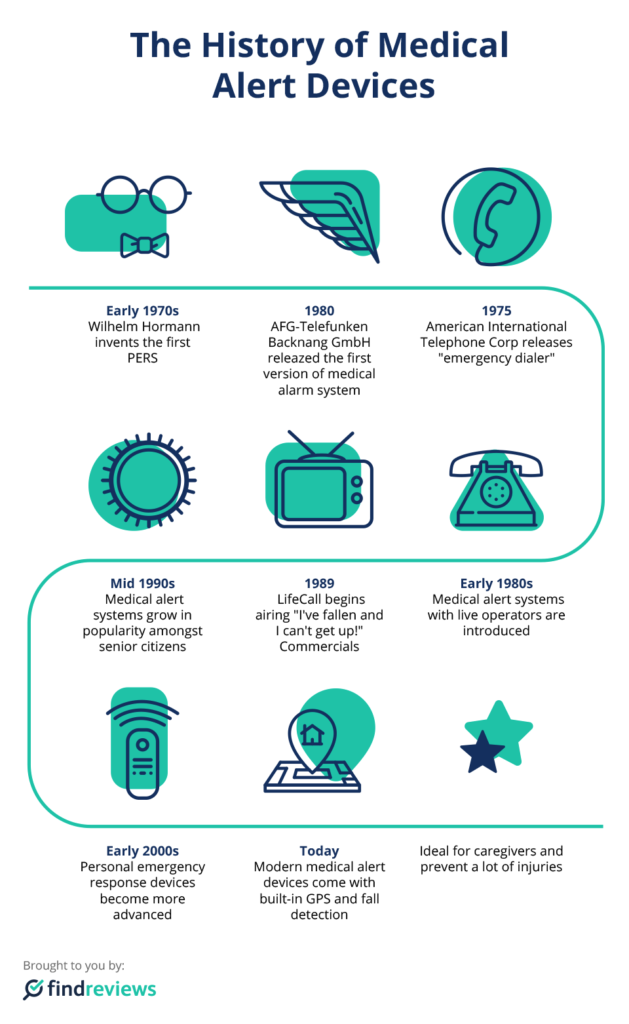 But an American company beat him to the punch by releasing a medical alert system they called an "emergency dialer," as it worked in conjunction with home phone lines. American International Telephone Corporation of California began selling their new medical alert system in 1975 as a way to quickly and easily get emergency medical assistance to seniors.
This "emergency dialer" worked by sending a signal to a machine that was connected to a landline phone. When seniors were in trouble, they pressed the alert button on a pendant they wore around the neck, and a message was sent to a previously chosen phone number.
This was cutting edge technology back in the late 1970s but it was soon realized that there was a problem with this type of PERS system. Messages sent were pre-recorded and couldn't be changed to share details with an emergency contact or the 911 operator. And what if the chosen emergency contact wasn't at home?
Medical Alert Devices Hit the Market
This lack of communication abilities in the first medical alert systems is what led to the addition of better technology and live operators in the late 1980s. More companies began offering medical alert device options to seniors and the competition grew tough.
It was during this time that medical alert companies began releasing TV commercials geared toward showing just how scary senior falls and other emergencies could be for them. And the most famous of them all had to be the "I've fallen and I can't get up!" commercials.
LifeCall released the first version of these infamous television ads in 1989, which featured an elderly woman identified as "Mrs. Fletcher" who used her LifeCall pendant after falling in the bathroom. Mrs. Fletcher is trapped under her work and utters the soon-to-be-famous phrase for the first time.
By the end of 1990, "I've fallen and I can't get up!" had become a popular catchphrase, with people of every age using it to add hilarity to any circumstance. It was even featured jokingly in multiple TV sitcoms, standup comedy acts, and on the front of novelty t-shirts.
In fact, the phrase became so popular that LifeCall trademarked it in 1992 and continue to use it in their marketing and on their website to this day. In 2002, Life Alert Emergency Response registered the very similar "Help! I've fallen and I can't get up!" and began using it in their own commercials, with the most recent TV spot airing in 2018 and still making the rounds today.
Medical alert companies also used celebrities to market their products. Safety advocate and America's Most Wanted host, John Walsh has appeared in multiple TV spots for GreatCall. He uses his fame to promote GreatCall to both the children of aging parents and directly to senior citizens looking for more independence.
In one of his most well-known medical alert device commercials, Walsh jumps off a building to make the point of how important it is to be able to live life without fear. He tells viewers that GreatCall medical alert is there to help seniors with any emergency, big or small.
It might seem as if these medical alert companies are trying to profit off seniors or even turn their medical emergencies into a laughing matter. But even though some of the most popular medical alert commercials ended up becoming running punchlines, they weren't all bad by any means.
They also served to educate the public about medical alert systems and how they could help senior citizens live happily and healthily in their own homes. With that in mind, it seems as if many of us with older loved ones owe LifeCall, Life Alert, and GreatCall a thank you.
Medical Alert Systems Changed with the Times
When medical alert devices first came on the scene back in the late 20th century, they were bulky and weren't always reliable. And seniors were chained to their homes, due to the early personal emergency response systems only working with landline phones.
But today, the top medical alert companies offer seniors devices with amazing technology, such as waterproof wearable devices, mobility with cellular connections, and much more reliable access to trained medical operators.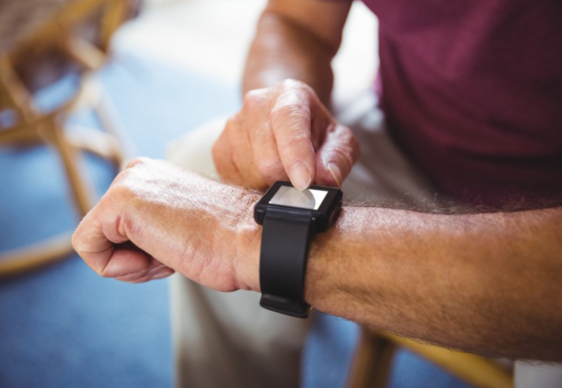 Some of the other advanced features of today's medical alert devices include:
Built-in GPS technology to pinpoint physical location

Long-lasting battery life with rechargeable batteries

Automatic fall detection and operator connection

Multiple sleek-looking wearable device options

24/7 dedicated call centers for access to help
No longer are senior citizens expected to stay at home with an alert button hanging from their neck. They can get out and enjoy life with modern medical alert systems while having the confidence that comes with knowing if something does happen, medical assistance is only moments away.
The Future of Medical Alert Devices
We've come a long way from the personal emergency response systems of the 1970s and with new technology coming out every day, it stands to reason that medical alert devices will only become more advanced in years to come.
Seniors can already choose from wearable devices that look like smartwatches or fashion accessories. And the best medical alert companies are dedicated to providing independence and safety to on-the-go senior citizens.
If you have an elderly loved one that still loves getting out and enjoying their golden years, you should 100% look into finding the right medical alert device to keep them safe without giving up on living life to the fullest. Be sure to check out our Ultimate Guide to Medical Alert Systems to learn more!