Did you know that the CDC has reported more than 3 million older Americans are sent to the ER with a fall-related injury every year? If you're looking for a way to help yourself or an elderly loved one address falls and other medical emergencies, a medical alert system might be just what the doctor ordered.
That's because the best medical alert devices allow seniors to quickly and easily get medical assistance in life-threatening situations. Many people over the age of 65 have decided to invest in their health and happiness by purchasing a medical alert system.
But what can you expect to pay for a medical alert system and what's included? We're going to show you everything you need to know about medical alert pricing and accessories, so you can avoid paying for things you don't need and keep your costs as low as possible.
What is a Medical Alert Subscription?
When you sign up for a medical alert system subscription, you'll have 24/7 access to operators that have been trained to handle emergency situations and get you the help you need. You will most likely have to choose between mobile or in-home medical alert service, which could change the subscription cost and the equipment you receive.
For example, with a Medical Guardian mobile medical alert subscription, you'll be provided with a lightweight and portable medical alert device for your neck or wrist that works on a cellular network and has built-in GPS technology.
When you press the medical alert button on your device, a signal is sent to the Medical Guardian emergency monitoring center, and you're connected with an operator. You'll let them know what type of emergency you're having and they will send the help you need immediately.
In most cases, medical alert subscriptions come with benefits that go above and beyond simple emergency monitoring. You'll most likely get regular system tests and 24/7 device support with the top medical alert providers. You may also find that some companies offer special discounts on their medical alert system subscription prices or free monitoring for your spouse.
How Much Are Medical Alert Subscription Prices?
Medical alert system subscription providers usually offer monthly, quarterly, or annual payment options and a 30-day satisfaction guarantee. Many don't require a long-term contract or penalize you for canceling any time you choose but some do have related fees, including those for activation or shipping.
Of course, the cost of your medical alert subscription is going to depend on the provider, system and device type, and which kind of billing plan you choose. The following info is the latest on how much medical alert systems cost.
Typical medical alert subscription costs range from $20 to $40 per month for a basic system. If you want extra features like GPS location services, automatic fall detection, or a more discreet looking option like a medical alert smartwatch, you'll most likely pay from $60 to $80 a month.
You might also want to consider adding an additional pendant, a lockbox to give emergency responders quick access to your home, a case or belt clip for your device, or other helpful types of medical alert system subscription accessories.
Your best bet is to do your research by reading user reviews if you want to get the best medical alert subscription price. Many providers offer free shipping, no activation fees, and other perks to new medical alert service customers.
Are There No-Fee Medical Alert Systems?
While subscription-based medical alert systems provide live support and other extras, there are options out there for those looking to take a more bare-bones approach. No-fee medical alert devices remove the middle man and simply connect you to 911 or your emergency contact.
These subscription-free medical alert systems usually work with a base unit that's plugged directly into a phone jack and come with a pendant that's worn around the neck. If you have a medical emergency, you press the help button and you're connected with 911 or any other phone number you program into the device.
Many no-fee medical alert systems require assistance to be set up, due to their direct-dial operation, and like medical alert subscription devices, no-fee medical alert system costs will vary based on the company and available features. But typical prices are around $200 to $300.
Medical alert system accessories also vary with these no-fee systems. For example, some provide waterproof devices and fall detection monitoring, while others simply work as smaller versions of portable phones that are worn around the neck.
Subscription vs. No-Fee Medical Alert Systems
You're probably wondering if a no-fee or subscription-based medical alert system is better for your needs. There's a lot to like about both, as any type of medical alert device can mean the difference between life and death in the event of an emergency.
Deciding whether or not you should choose a medical alert subscription or no-fee system can seem like a difficult task. But if you take the following factors into consideration when exploring both types of medical alert devices, you should find your decision becomes much easier.
Your Location: Do you have family or trusted friends nearby that are available to get to you quickly during an emergency? If not, your best chance for peace of mind is going with a subscription-based medical alert system.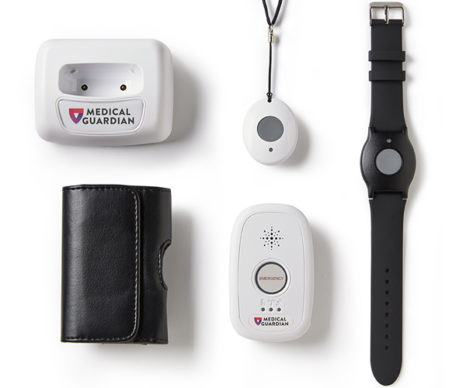 Device Accessories: Most subscription-based systems provide plenty of medical alert accessories, such as lanyards, lockboxes, belt clips, cases, or additional pendants. You might even get them free of charge with your monthly subscription.
Medical Monitoring: Medical alert subscription services provide users with around-the-clock monitoring. This means if you have a medical emergency, you'll have 24/7 access to trained operators and first responders. No-fee medical alert devices require you to push a button and simply connects you with 911 or dials your emergency contact's phone number.
System Pricing: If you're worried about paying upfront costs or making a large one-time investment, you might want to avoid no-fee medical alert systems. You won't have a monthly bill to pay, but you'll have to find a way to pull hundreds of dollars out of your budget to get started.
Reliable Equipment: Whether you go with a subscription-based or no-fee personal emergency response system, you should be sure to choose a provider that offers equipment that is easy to set up and use, as well as sending monthly signals to test that your medical alert device is still working.
Customer Support: Every medical alert provider should offer their customers fast and friendly support. If you have a question about your bill, how to fix your device, or even about upgrading to a mobile system with more features, you should be able to easily contact your medical alert customer service team.
The Bottom Line on Medical Alert Subscriptions
Since falls are one of the leading causes of injuries and death for those 65 and over, according to the National Council on Aging, we highly recommend investing in subscription-based medical alert systems that come with a 24-hour monitoring service and access to a live operator.
We hope that our guide to the best medical alert subscriptions and accessories was helpful to you and has shown you the right way to choose a personal emergency response system that fits into your lifestyle and budget.
If you want even more advice on finding the right medical alert system, you might want to check out our ultimate buyer's guide, and discover even more in-depth info on just how medical monitoring is saving the lives of seniors each and every day.